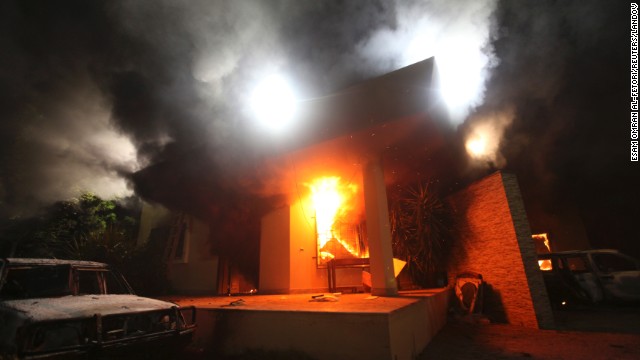 Attack
on the U.S. Consulate in
Libya
SAULT STE. MARIE, Mich.,
Sept. 13, 2012
/Christian Newswire/ -- Christian Freedom International (CFI), a Michigan-based organization dedicated to assisting persecuted Christians around the world, is expressing concern that Middle Eastern Christians will feel extended repercussions of the recent bombings in Libya and Egypt that killed four American workers, including U.S. Ambassador to Libya J. Chris Stevens.
The bombings came in retaliation for the anti-Islamic film "Innocence of Muslims," a 14-minute video created by an Israeli-American filmmaker that allegedly blasphemes the prophet Mohammed. While four deaths occurred at the Libyan embassy on Tuesday, no casualties were reported following the attack on the U.S. embassy in Egypt, although protesters did tear down the embassy's American flag. U.S. officials speculate that the attacks were carried out by the militant Islamic group Ansar al Sharia and an African-based faction of Al-Qaeda, and that they were planned in conjunction with the anniversary of the September 11 attacks.
CFI, whose humanitarian presence extends into Muslim-majority countries such as Pakistan and Bangladesh, believes that the persecution already experienced by thousands of Middle Eastern Christians as a result of the Arab Spring revolution will continue to intensify in the wake of the attacks in Libya and Egypt. Other organizations, such as Open Doors USA and the World Evangelical Alliance, have issued similar statements voicing concern for the safety of Christians in the region and the potential for more violent conflict due to the tendency by Muslim fundamentalists to link the United States with Christianity.
"CFI mourns the death of Chris Stevens and the three other American employees who risked their lives to serve our country abroad," says CFI President Jim Jacobson. "We must pray for the families who have lost loved ones in these attacks and for all the Christians in these and other countries who suffer persecution. There is most certainly a growing threat to minority Christians in this region."
In addition to humanitarian relief of food, medical aid and educational resources, CFI provides advocacy for persecuted Christians on Capitol Hill as well as through social media venues like Facebook and Twitter. For more information about CFI's work within the persecuted church, visit www.christianfreedom.org.
Christian Newswire