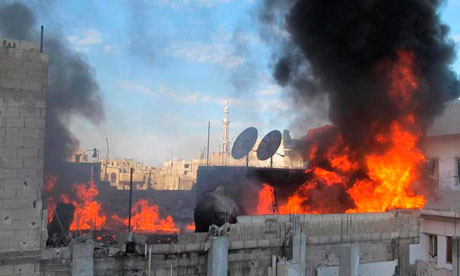 Burning buildings in Baba Amr, Homs,
an area heavily shelled by the Syrian regime.
Photograph: Local Co-ordination Committees/EPA
Christians Facing Nightmare in Homs; Thousands Forced to Flee
: "SANTA ANA, CA (ANS) -- Christians living in the ravaged city of Homs, Syria, are facing a nightmare that never seems to end.
The target of a savage bombing campaign, Homs has made headlines around the world. But behind the headlines, another story is emerging. There is disturbing new evidence of intimidation and persecution of Christians in the city.
Before the Syrian uprising against the government – which has left 9,000 dead – began over a year ago, there were an estimated 40,000 Christians in Homs. Now less than 5,000 are left. Most fled because of the conflict. But many are now being driven out. Extremist Sunni Muslim groups have recently started to visit Christian families in Homs, telling them to leave, or else be killed."
Read more...