By Michael Ireland
Senior International Correspondent, ASSIST News Service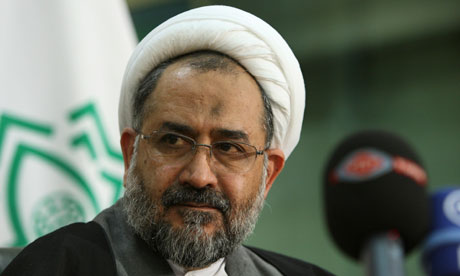 TEHRAN, IRAN
(ANS) --
After Iranian Intelligence Minister Heidar Moslehi desperately pleaded with seminaries to stop the spread of Christianity, an Islamic cleric stated that evangelical Christianity is the most horrifying intelligence and security organization in the world.
According to the Iranian Christian news agency, Mohabat News,
www.Mohabatnews.com
, the Revolutionary Guard-backed news agency Fars quoted a pro-regime Islamic cleric -- who was introduced as an outstanding scholar in denominations -- as saying "evangelical Christianity is the most horrifying intelligence and security organization in the world!"
In a conference on 'New-Age Cults' in Varamin, a county south of Tehran, Akhond Mohsen Alizadeh said: "We should not allow these cults to question Islamic jurisprudence under the cover of mysticism."
He added: "They tell the youth that God is wrathful and horrible in Islam but is love in Christianity. Also, Christian preachers answer the questions and doubts of youth in their own interest and try to attract them."
The Mohabat News agency says that after strongly warning against false mysticism, "this misguided cleric suggested that a place in universities be dedicated for the study of false mysticism in order to explain real Islam so that the youth will see that Islam is a great defensive and attacking plan of life."
However, according to the news agency report, he neglected to mention what kind of Islam was introduced and practiced in the thirty three years since the Islamic revolution, "so that now they want to show the true face of Islam, especially to youth!"
Mohabat News says it is not clear what kind of reasoning this scholar used to relate evangelical Christianity to horrifying intelligence organizations.
The news agency said: "What is obvious is the fear and inability of the Islamic Republic in preventing the spread of Christianity among Iranian youth, and this has made the regime to babble incoherently."
Mohabat News says that in the recent past, Heidar Moslehi, the Intelligence Minister, announced a new series of actions to counteract the spread of Christianity and house churches across the country. In his speech he pleaded with seminaries, telling the members "to take action and guide the youth to the right way!"
Mohabat News goes on to say; "It seems that Akhond Mohsen Alizadeh's claims regarding evangelical Christianity, likening it to intelligence organizations, have been influenced by the Intelligence Minister's suggestions. Their purpose is to enable judicial authorities to easily use such expressions in accusing Christian detainees of security offenses."
Earlier, the news agency says, media backed by the Islamic regime had warned about the growth of Christianity in Iran and published a series of false reports in order to damage the image of Christianity in Iran.
"They wrote that cultural and promotional institutions need a coherent plan to confront these movements, especially the strong advancement of Christianity," the news agency reported.
---
| | |
| --- | --- |
| ** Michael Ireland is the Senior International Correspondent for ANS. He is an international British freelance journalist who was formerly a reporter with a London (United Kingdom) newspaper and has been a frequent contributor to UCB UK, a British Christian radio station. While in the UK, Michael traveled to Canada and the United States, Albania,Yugoslavia, Holland, Germany,and Czechoslovakia. He has reported for ANS from Jamaica, Mexico, Nicaragua, Israel, Jordan, China,and Russia. Michael's volunteer involvement with ASSIST News Service is a sponsored ministry department -- 'Michael Ireland Media Missionary' (MIMM) -- of A.C.T. International of P.O.Box 1649, Brentwood, TN 37024-1649, at: Artists in Christian Testimony (A.C.T.) International where you can make a donation online under 'Donate' tab, then look for 'Michael Ireland Media Missionary' under 'Donation Category' to support his stated mission of 'Truth Through Christian Journalism.' Michael is a member in good standing of the National Writers Union, Society of Professional Journalists, Religion Newswriters Association, Evangelical Press Association and International Press Association. If you have a news or feature story idea for Michael, please contact him at: ANS Senior International Reporter | |
---
** You may republish this story with proper attribution.